How long does the screening process take?
Screening typically takes 5-7 days but it can sometimes take longer or shorter. It is often dependent on the schedules of the applicant and the home visit volunteer.
Can I come and see a dog before submitting an application?
No. All dogs in our adoption program are in the private homes of our foster volunteers and in order to respect their time and privacy a family must be screened before meeting a dog. This is to ensure it would be a good match for all parties before getting anyone's hopes up and wasting time.
Can I get a discount on the adoption fee? I have lots of love to give.
No, sorry. HART is a registered charity and all the money collected through adoption fees is used to help future dogs in our adoption program. The initial cost of adopting a dog is a mere fraction of the actual cost of owning a dog. Dogs need quality food, toys, regular vet care, parasite prevention, soft beds and of course emergencies can always pop up.
I live in an apartment, can I adopt a dog?
The short answer is 'yes' but it depends on the dog you are interested in, if they would be suitable. Not all are but definitely a calm large dog or a quiet smaller dog would be perfectly happy in an apartment.
I don't have a fenced yard but the Petfinder listing says a fenced yard is required. ???
Exceptions are made but ultimately it depends on the dog and your property. All Hounds require a fenced yard. No ifs, ands or buts about it!
Do you accept e-fencing?
We do not consider e-fencing secure fencing.
What forms of payment are accepted for the adoption fee?
We accept cash, cheque or etransfer.
Do I get a tax receipt for the adoption fee paid?
No. Tax receipts are issued for donations only.
What if I adopt a dog and it doesn't work out. Can I return it?
Sometimes this happens and yes we will always take back any dog adopted from us, whether it be 2 days after the adoption or 2 years. We do ask that you be patient with your new dog and allow them a chance to settle in. Dogs need at least a few weeks, oftentimes longer, to settle into a new environment and be comfortable. Patience is a must!
How much does it cost to adopt a dog?
The adoption fee for each dog is listed on their individual bio. Bios are available on Adoptable Dogs page.
If I return a dog do I get my adoption fee back?
If it is within 2 weeks, yes you would. After that, no sorry you would not.
How long does the screening process take?
Typically it takes about a week. Once approved you are required to go to the dog's foster home to meet him/her within 7 days to meet the dog.
The bio said the dog was friendly but my new dog is acting shy. What happened?
All of our dogs have been assessed in foster care so we have a very good sense of their personalities and behaviours and all aspects of the dog would have been covered during the screening process. The dog just needs a bit of time to get used to you, your family and the new environment.
I have allergies to dogs. Can I adopt one?
Probably not, at least not from HART. We've seen far too many dogs surrendered to us/pounds because of allergies to want to take a chance with adopting one of our dogs into a home with known allergies. That being said, there are hypo-allergenic breeds (Poodles for examples) that many allergy sufferers are ok with. Given that most of our dogs are mixed breeds, it is unlikely we would have a pure Poodle or Shih tzu in our program. If you have allergies, we suggest you contact a breed specific rescue for the breed you are interested in or a reputable breeder.
Why don't you adopt puppies to families with children under the age of 5?
Simply put, puppies are A LOT of work! Caring for a puppy is just like caring for a toddler. They need extensive training, socialization and exercise during the first year of their life to ensure they mature into a well balanced, well behaved adult dog. The average person is not up to the task of raising 2 "toddlers" at the same time.
I live in the USA, why can't I adopt a puppy from HART?
The requirements set forth by U.S. Customs and Border Protection state that a dog must have their rabies vaccine for 30 days before entering the US. Puppies in Canada are not rabies vaccinated until at least 4 months of age. This means the earliest a puppy could legally be brought into the USA is 5 months of age. At that time, yes we would have no issue adopting a puppy/dog into the USA.
Can you hold a dog for me? I'm going on vacation soon.
No, we cannot "hold" dogs for people. If approved to adopt, the meet and greet will be scheduled within 7 days of your approval date. This means you will need to be available to meet the foster parents. It is not fair to the dog nor is it fair to other applicants to hold a dog for someone.
Where are the dogs located?
All dogs in our adoption program are living in the homes of our foster volunteers as members of their families. Our foster homes are spread out across Ontario, with most being in southern Ontario. Each dog's location is listed on their bio.
I live far from the foster home. Can you transport the dog to me?
No, all approved adopters are required to meet the dog at their foster home. This ensures you are seeing the dog in an environment they are comfortable in. It also important for the foster parent to be able to meet who is adopting the dog they have cared for.
Rags to Riches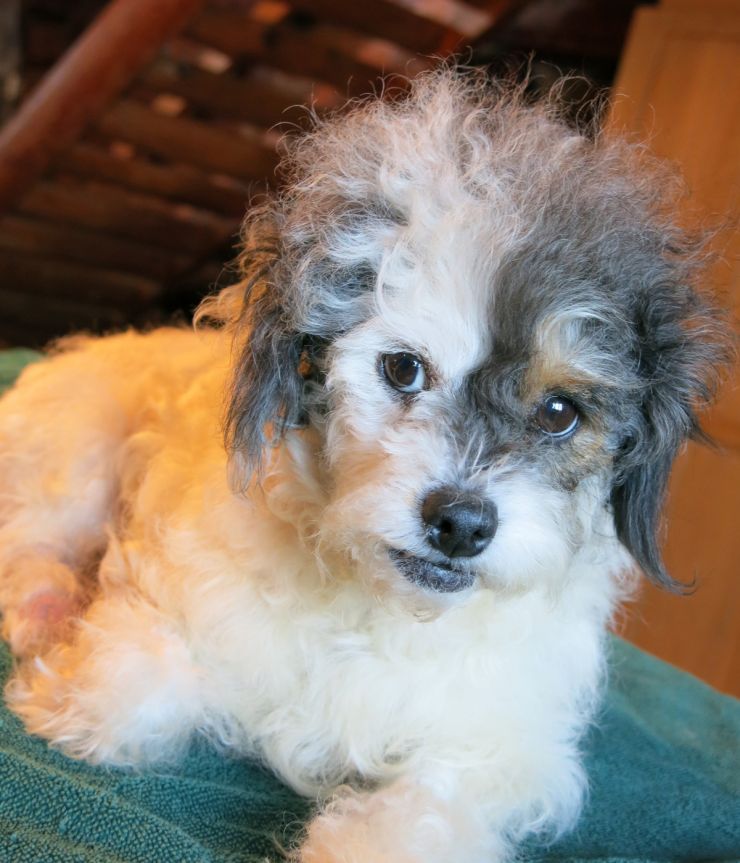 This little Poodle mix came to HART in absolutely appalling condition but after months of vet care and TLC you could hardly recognize her. She was adopted by a lovely lady and spends her days relaxing with her canine and feline brothers and sisters.